Obama Administration Proposes to Greatly Reduce the Protected Habitat of Threatened Seabird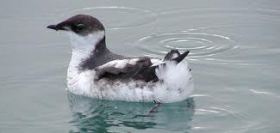 Twenty-one conservation groups sent a letter to the Obama administration today, asking it to withdraw from a recent agreement with the timber industry that, if approved by a federal court, would eliminate protection from 3,887,800 acres of critical habitat for the marbled murrelet until 2018. The federally threatened murrelet — a shy, robin-sized seabird that nests on the wide branches of old-growth trees — has severely declined in the face of logging of Pacific Northwest forests, a trend that continues today due to ongoing logging, according to recent studies.
"Murrelets urgently need more, not less, habitat protection,' said Noah Greenwald, endangered species director at the Center for Biological Diversity. "A backroom deal with the timber industry that strips protections for an endangered species is a clear throwback to the Bush days — it's shocking the Obama administration would stoop to this. I'm deeply disappointed.
The agreement must be approved by a federal district court in Washington, D.C. before it is final. The agreement stems from a challenge brought by timber industry groups to listing and protection of critical habitat for murrelets. Conservation group intervenors Audubon Society of Portland, Seattle Audubon, the Center for Biological Diversity, Oregon Wild, Conservation Northwest, the Environmental Protection Information Center, represented by Earthjustice, have opposed the agreement. The court will decide whether to approve the agreement any day, but the groups are calling on the administration to pull out of the agreement before a decision is handed down.
"The administration can and should reverse course," said Kristen Boyles, staff attorney with Earthjustice. "Murrelets need protected habitat to survive, not a private deal to gut protections that have been in place and working for 16 years."
Marbled Murrelet photo credit FWS.
Read more at Center for Biological Diversity.