In the News: South Georgia to cull invasive reindeer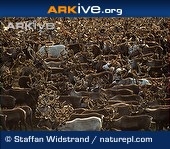 As well as being home to 3,000 reindeer, the island of South Georgia has many endemic species of fauna and flora that evolved in the absence of grazing pressures. These species are now struggling to survive in the reindeer's overbearing presence, and the Government of South Georgia and the South Sandwich Islands has announced plans to eradicate the population in an effort to save the island's unique species.
Habitat destruction
Reindeer were first introduced to South Georgia by the Norwegians in the 1900s to provide fresh meat on whaling missions in Antarctica. The population was originally managed by regular hunting, but when whaling stations were shut down in the 1960s, all hunting ceased.
Since then, the reindeer population has increased dramatically to a point where the island's flora and fauna can no longer cope. Reindeer trample the indigenous plants, threaten king penguins and other local birds by destroying their nests and habitat, and cause substantial soil erosion.
The reindeer herd is currently restricted by glaciers to the only suitable grazing habitat, which is also the most biologically productive. However, the impending threat of climate change and glacial recession will serve to increase the damage caused by opening up access to the rest of the island.
The government has decided to eradicate the reindeer population on South Georgia on the grounds of responsible environmental management practices.
Article continues at ENN affiliate, ARKive.org