Marine pollution incidents kill thousands of seabirds - and it could be legal!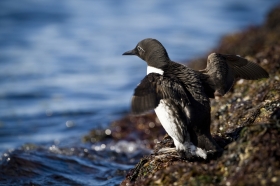 Between 29 January and 6 February 2013, more than 500 seabirds, mainly guillemots, were killed or rendered helpless by a mystery substance from a pollution event off the south coast of England.
Shockingly, these deaths and injuries may have resulted from legal shipping activity. The substance was subsequently identified as a man-made synthetic polymer known as polyisobutene, or PIB. This same substance has also caused the deaths of thousands of other seabirds in recent years in the Irish and North Seas.
Although it is illegal to discharge mineral oil directly into the seas (most major incidents of oil pollution now relate to shipping 'accidents', such as the MSC Napoli off Devon in 2007), it is still legal with conditions to discharge hazardous noxious chemicals, such as PIB, directly into the sea when washing out cargo tanks.
There is growing evidence, however, that some of these chemicals have highly damaging impacts on the marine environment, of which seabirds are the most obvious victims, but which are not currently considered by existing regulations. This has to change.
These birds were coated with a whitish or transparent, glue-like substance, so adhesive that it stuck their wings to their bodies, and even stones and rocks to the birds themselves. The hotspot was between Chesil Bank and Portland, Dorset but smaller numbers of similarly affected birds were reported from Devon and Cornwall.
Staff and volunteers from conservation and welfare NGOs recorded casualties. The RSPCA collected live casualties: 286 guillemots and 24 razorbills, and smaller numbers went for treatment elsewhere. Sadly, 53 of these casualties have subsequently died or had to be euthanized. Approximately 200 dead birds were recorded at Chesil/Portland in total. Many birds were emaciated, indicating they had not been able to feed for some days.
Marc Smith, Dorset Wildlife Trust, was one of the first to witness the scale of the tragedy; he and his colleagues worked with RSPCA staff to retrieve affected birds. "It was heart-breaking seeing the birds washing up along the shore. Some were so covered in this horrible substance they were literally stuck to the beach – still alive but unable to move. Others only had a small amount on them but you could see they were in distress. Exhausted, freezing and emaciated - they were the lucky ones. For every bird rescued we knew there were many more that had perished at sea. Dead birds littered the beach. What really sticks in your throat is knowing this was preventable".
Continue reading at The Ecologist.
Guillemot image via Shutterstock.