Fungi Found to be Culprit for Horseradish Root Rot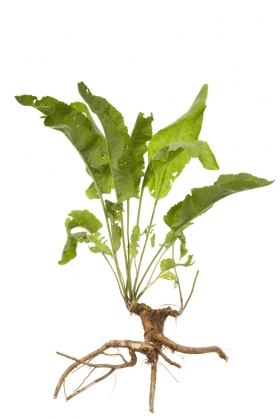 Horseradish grown in the Midwest of the United States has been experiencing significant yield reductions for the past 30 years due to internal discoloring and root rot.
According to crop science professor Mohammad Babadoost at the University of Illinois, "If the roots are discolored, they are not accepted for processing." This affects the success of these plants and the livelihood of Illinois farmers who grown over half of the horseradish produced in the United States.
University of Illinois researchers have been looking at various bacteria and fungi, trying to identify the agents causing the problem and in the 1980s, they isolated a fungus called Verticillium dahlia, which was linked to horseradish disease at many locations in the United States.
Babadoost, however, was not convinced that this fungus was responsible for all the damage and thought that there was a complex problem rather than a single pathogen or disease. As a result, researchers identified 11 isolates that were initially known as Fusarium oxysporum. However, after further analysis, they found that six of them were actually Fusarium commune.
Researchers compared the pathogenicity of the two fungi species, and found that plants inoculated with F. oxysporum developed internal root discoloration. However, roots inoculated with F. commune had more discoloration, and 83 percent of them developed root rot by four months after inoculation. This was the first time that F. commune had been linked to horseradish disease.
So what does this mean for horseradish growers? Infected roots can be dug up, washed, and replanted, however, the process is not only labor-intensive but time consuming and the plants can still remain susceptible to the pathogens that remain in the soil.
Instead, Babadoost recommends that growers use an Integrated Pest Management (IPM) approach. Infected roots can be cleaned in hot water and replanted. Biocontrol agents or fungicides can be used to protect the roots from infection for 12 weeks, and it takes roughly the same amount of time for root damage to reach unacceptable levels.
"If these two techniques are combined, by the end of the season in the fall the roots are either not infected or discoloration from infection is negligible, so you can sell the roots," he said.
The research is published by the American Phytopathological Society in the April 2013 issue of Plant Disease.
For more information see the University of Illinois at Urbana-Champaign.
Horseradish image via Shutterstock.