Logging may destabilize carbon in forest soils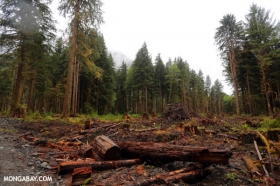 Logging in temperate zones may release more greenhouse gases than previously thought by destabilizing carbon stored in forest soils, argues a new paper published in the journal Global Change Biology-Bioenergy. The research involved analysis of carbon released from forest management practices in the northeastern United States. It found that while most models assume carbon stored in mineral soils to be relatively stable, in fact intensive logging operations, like clear-cutting, trigger release of carbon from various pools above and below ground.
"Our paper suggests the carbon in the mineral soil may change more rapidly, and result in increases in atmospheric carbon dioxide, as a result of disturbances such as logging," said Dartmouth Professor Andrew Friedland, a co-author on the paper. "Analysis of forest carbon cycles is central to understanding and mitigating climate change, and understanding forest carbon cycles requires an in-depth analysis of the storage in and fluxes among different forest carbon pools, which include above ground live and dead biomass, as well as the below ground organic soil horizon, mineral soil horizon and roots."
Pacific Northwest image by Rhett Butler via Mongabay.