Woodpecker Species Benefit from Emerald Ash Borer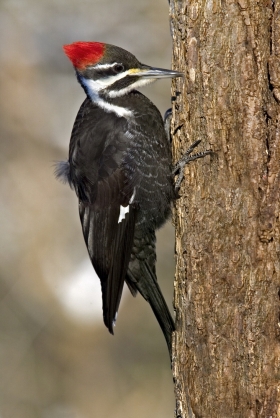 Many of us have heard of the Emerald ash borer (EAB) – a highly invasive beetle known for it's destruction of ash trees. After being discovered in the United States in 2002, this pesky little beetle has killed tens of millions of ash trees in Michigan alone. In addition to the tens of millions of ash trees also affected in the Midwest and East Coast of the United States, the invasive species has cost millions of dollars worth of damages for property owners and nurseries across the country.
For us, this pest has a notable bad rap, but for four species of birds in the Detroit area, the emerald ash borer is in fact the cause for their recent success.
In a study published this week in the journal Biological Invasions, U.S. Forest Service entomologist Andrew Liebhold and Cornell University scientist Walter Koenig and others document how the emerald ash borer has caused a boom in population for three woodpecker species as well as the white-breasted nuthatch.
According to the study, all four species are cavity-nesters feed on the tasty beetle and also stand to benefit from an increase in nesting habitat as trees are killed by EAB.
"The emerald ash borer has been massively destructive because most North American ash trees have little or no defense against it," Liebhold said. "We can take heart that native woodpecker species are clearly figuring out that EAB is edible, and this new and widely abundant food source appears to be enhancing their reproduction."
The study examined bird populations in an area about 25 miles west of downtown Detroit, where EAB was first discovered. Between the time EAB was first detected in 2002 and 2011, relative numbers of red-bellied woodpeckers and white-breasted nuthatches increased in abundance, scientists found. Populations of downy and hairy woodpeckers initially declined significantly and then fluctuated, however the downy woodpecker was at a significantly higher level relative to control sites during the 2009 bird survey season and hairy woodpecker populations were significantly higher during the 2011 season.
"Both for forests and urban trees, the emerald ash borer has been devastating," said Michael T. Rains, Director of the U.S. Forest Service's Northern Research Station and Director of the Forest Products Laboratory. "The Forest Service is helping cities and states prepare for and recover from EAB invasion with research on the insect, ash trees' resistance to EAB, and biological control."
Read more at the Northern Research Station News.
Woodpecker image via Shutterstock.