Hawaii Coastlines on Track to Lose 100 Feet of Beach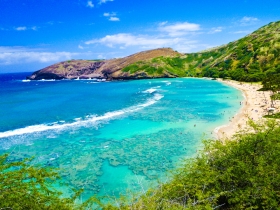 Hawaii is known for it's pristine beaches and it's 750 miles of coastline. However with looming sea water rise due to melting ice caps and climate change, a new study by the University of Hawaii shows the state is on pace to lose 100 feet of beach in the coming decades.
According to the study, Maui beaches are most at risk as the sea-level rise is approximately 65% higher compared to the island of Oahu.
While many beaches have been faced with erosion for years, predictions show that beaches will start to disappear even faster. 
Researchers with the School of Ocean and Earth Science and Technology (SOEST) studied 100 years of data for both Maui and Oahu. They found global warming is causing the sea level to rise which in turn is causing beaches to erode. In the next 25 to 30 years the prediction is Hawaii shores could lose 100 feet of beach.
Island-wide and regional historical shoreline trends were calculated for the islands using shoreline positions measured from aerial photographs and survey charts. Shoreline positions were manually digitized using photogrammetric and geographic information system (GIS) software from aerial photo mosaics and topographic and hydrographic survey charts provided by the National Ocean Service (NOS).
"A hundred feet of shoreline erosion around Hawaii takes us into homes and communities and highways so this is a coming problem that has already started and it's going to become magnified within the next decade or two," said Charles Fletcher, PhD. SOEST Associate Dean.
In places like Kailua and Waikiki sand has been added which is good but not a permanent fix.
"We patch potholes in our roads, it's not a permanent solution but it gets you through the next couple of years. It makes the roads usable," said Prof. Fletcher. "Putting sand on the beach is a form of environmental maintenance."
Not only is sea level rising around Maui and the Big Island, but the islands are also sinking because the volcanoes there are relatively new and haven't fully settled.
Managing coastal erosion is a daunting task. Not only does it take hundreds of man hours to create temporary solutions, but it can cost hundreds of thousands to millions of dollars. In order to combat these issues, planning needs to occur.
The authors of the study hope to show that sea level rise is a primary cause of shoreline change on a regional scale. They also hope to encourage managers and other coastal zone decision-makers to focus on these impacts in their own research programs and long-term planning.
Read and see more at Hawaii News Now and ScienceDaily.
Read the paper "Are beach erosion rates and sea-level rise related in Hawaii?" at Global and Planetary Change.
Hawaii beach image via Shutterstock.