Safe passage at last for the Pronghorn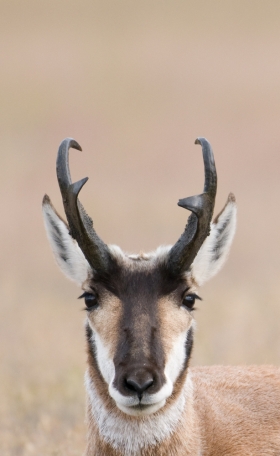 U.S. Highway 191 in Trapper's Point, Wyoming is safer today for motorists and pronghorns alike as a result of a newly built 8-part overpass/underpass system designed to facilitate the travel and migration of local populations of pronghorn, mule deer, moose, elk and other wildlife safely over the highway. While the overpass was completed in time for last year's migration, the pronghorn were hesitant to use the system last year making researchers nervous. However, this year the pronghorn were less confused by the alteration and used the passages willingly.
WCS has long studied an approximately 93-mile (150 km) migration of pronghorn between wintering grounds in the Upper Green River Basin and summering grounds in GTNP—a migration corridor known as the "Path of the Pronghorn." Trapper's Point has historically been a "bottleneck" problem area for the pronghorn each year, causing thousands of the animals to cross traffic lanes on U.S. Highway 191, and creating a perilous situation for humans and wildlife alike.
Last year's completion and opening of the overpass marked a new era of reduced risk of wildlife/vehicular collisions in the area. The Path of the Pronghorn is the first and only federally designated migration corridor in the United States.
Scientists last year were concerned for the pronghorn, as they seemed reluctant to cross at the overpasses, often patrolling back and forth before eventually crossing over. The safe corridor system was built by the Wyoming Department of Transportation in coordination with the Wildlife Conservation Society (WCS), the Grand Teton National Park (GTNP), the Bridger-Teton National Forest and many other conservation groups.
"What a difference a year makes," said WCS Northern Rockies Program Coordinator Jeff Burrell. "While it was great to see pronghorn first using the overpass last year, it was clear that the fences and structures were confusing to them. This year, groups numbering from one to two hundred moved along a new route directly to, and over, the overpass with no delays, demonstrating their comfort with the overpass and the structure's conservation value. The overpass not only reduces mortality but also allows the pronghorn to move with less energy and stress."
Pronghorn are North America's fastest land animals. They numbered an estimated 35 million in the early 19th century. Today, about 700,000 remain and more than half of those live in Wyoming. The animals migrate to find food, mating opportunities, suitable habitat, and other resources they need to survive.
Read more at WCS.
Pronghorn image via Shutterstock.