Indonesia's National Airline Carrier Bans Shark Fins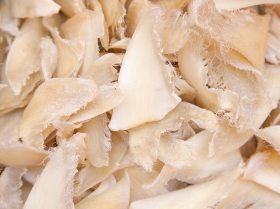 Indonesia's national carrier Garuda Indonesia has joined a growing number of airlines looking to curb the international shark fin trade by banning the transport of shark fins and other shark products on their aircraft.
WWF-Indonesia, which helped campaign for the ban, called the new Garuda policy a "major step forward to reducing the global market for shark products." The airline had previously transported 36 tons of shark fin products a year, the conservation group said in a media release on Nov. 15.
"WWF-Indonesia commends this move by Garuda Indonesia. Their policy to cease transporting shark fin products is a positive step that should generate further momentum in the shark conservation movement," Nazir Foead, WWF-Indonesia's conservation director, said in the media release.
Demand for shark fin soup in East Asia, which is the main driver of the shark products trade, has taken a heavy toll on shark populations.
An estimated 100 million sharks are killed each year, according to data released in March. That number far exceeds sustainable levels, and conservationists believe that one third of all open-ocean shark species are at risk of extinction.
Recently, prices for shark fins have been falling in Hong Kong, the global hub of the shark fin trade. This may be a sign that international campaigns by environmental groups and regulations banning or limiting the sale of shark fins are succeeding in curbing demand.
However, despite falling prices for fins, Indonesia remains one of the world's top exporters of shark fins and other shark products.
According to Indonesian government estimates, the country exported 434 tons of shark fins in 2012, worth around $6 million. In 2010, the United Nations Food and Agriculture Organization (FAO) identified Indonesia as the world's number one shark catching country, catching an average of over 109,000 tons of sharks per year from 2000-2008.
But the country has started looking for ways to control shark fishing and the shark fin trade, in part due to pressure from WWF-Indonesia and its #SOSharks campaign.
Earlier this month, Indonesia's Maritime Affairs and Fisheries Ministry announced it was considering a quota system and would issue a new regulation on shark fishing by the end of this year.
Continue Reading at Mongabay.com
Shark Fins via Shutterstock