That sinking feeling on the Mississippi Delta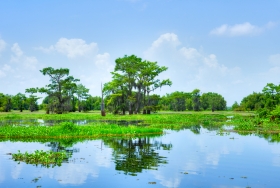 Every engineering control has its drawbacks. As communities upstream of the Mississippi Delta continue to emplace dams and other flood control measures to prevent community flooding, less sediment is pulled from the lands upstream. Flood control measures have eliminated about half of the annual supply of marshland sediment to the Mississippi Delta. The existing soils continue to compact and sink without sediment replenishment. But researchers have found that the river's supply of sand, the key ingredient used by engineers for rebuilding, will remain constant for many centuries.
"It's true that the total amount of sediment has diminished, but river sediment contains both fine-grained mud and course-grained sand, and our research found that upstream dam construction has not reduced the amount of sand in the lower Mississippi and won't for at least 300-600 years," said study lead author Jeffrey Nittrouer, assistant professor of Earth Science at Rice University.
Nittrouer and co-author Enrica Viparelli, assistant professor of civil and environmental engineering at the University of South Carolina, analyzed sediment loads in the lower Mississippi and found that while the total amount of sediment — both sand and mud — has diminished, the amount of sand trapped by upstream dams is offset by "mining" of new sand downstream.
"When clear water is released from the floodgates at upstream dams, it churns dormant sand that has long been deposited and carries it downriver," Nittrouer said. "This 'mining' of ancient sand makes up for the sand that is trapped by upstream dams, and our numerical models suggest that the sand load in the lower Mississippi River channel will not decline for at least 300 years. Looking even further into the future, we found that 600 years from now, the lower Mississippi River's sand sediment load will have declined by less than 20 percent from today's levels."
Nittrouer, whose research focuses on the sediment transport, hydrology, basin evolution and stratigraphy of lowland river systems, has studied the Mississippi River for the past decade. His previous work included 2012 land-building processes study during the historic flooding of 2011. In one of the largest floodwater diversions of the past century, the U.S. Army Corps of Engineers opened the Bonnet Carré Spillway, a 7,000-foot-widesafety valve to divert floodwater directly to Lake Ponchatrain.
Nittrouer and colleagues found that even though the 42-day diversion siphoned off less than 20 percent of the water flowing downriver, it diverted about 40 percent of the river's sand load into Bonnet Carré. Nittrouer and colleagues were able to show what factors the Corps should consider in designing sediment diversion projects for wetlands replenishment.
Read more at Rice University.
Mississippi River Delta image via Shutterstock.