Save the Bluefin Tuna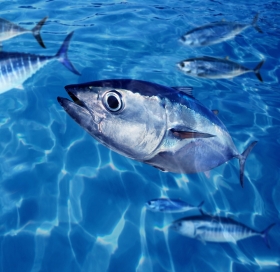 The National Marine Fisheries Service opened a public process today to determine whether to prohibit fishing for Pacific bluefin tuna, which have suffered a 96 percent decline since large-scale fishing began. The action followed the Center for Biological Diversity's rulemaking petition sent in April.
The Pacific bluefin population's historic low triggered a requirement for new regulations to better manage overfishing by April 8, 2014, but regulators thus far have declined to take any steps to help the fish. Today's request for comments is the federal government's first step to spur action from the Pacific Fishery Management Council.
"This initiation of this important process provides a glimmer of hope in a sea of bleak news for Pacific bluefin tuna," said Center Attorney Catherine Kilduff. "Saving Pacific bluefin tuna from the world's insatiable appetite for sushi requires action at all levels, starting with protection in U.S. waters."
In today's notice the Fisheries Service considers adding Pacific bluefin tuna to a list of imperiled species that must be released immediately if caught. That list includes great white sharks and other species vulnerable to steep declines from fishing. U.S. sport-fishery landings now dominate American catches of Pacific bluefin tuna, eclipsing the once-vibrant U.S. commercial fishery.
Last week Mexico prohibited commercial and recreational fishing for bluefin tuna for the remainder of 2014 after countries' collective catch reached the international 5,000-metric-ton limit for bluefin tuna. Fishing continues in U.S. waters because of exemptions negotiated by the U.S. delegation to the Inter-American Tropical Tuna Commission. This month's meeting of the commission failed to set future catch limits after the United States, Mexico, Japan, Korea and Chinese-Taipei could not agree on reductions.
Bluefin Tuna image via Shutterstock.
Read more at Center for Biological Diversity.