How did humans domesticate wild rabbits?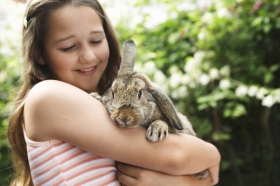 Until recently, little has been known about what genetic changes transform wild animals into domesticated ones. An international team of scientists, one of whom is a University of Montana assistant professor, has made a breakthrough by showing that genes controlling the development of the brain and the nervous system were particularly important for rabbit domestication.
The study was published Aug. 28 in Science and gives answers to many genetic questions.
The domestication of animals and plants, a prerequisite for the development of agriculture, is one of the most important technological revolutions during human history. Domestication of animals started as early as 9,000 to 15,000 years ago and initially involved dogs, cattle, sheep, goats and pigs.
The rabbit was domesticated much later, about 1,400 years ago, at monasteries in southern France. It has been claimed that rabbits were domesticated because the Catholic Church had declared that young rabbits were not considered meat, but fish, and could therefore be eaten during Lent. When domestication occurred, the wild ancestor, the European rabbit, was confined to the Iberian Peninsula and southern France.
"The domestication of rabbits depended upon small genetic changes in many genes rather than more radical mutations in a few genes," explained Jeffrey Good, UM assistant professor and a co-author on the study. "This pattern contrasts with the large-effect genetic changes that are typically associated with striking differences in the size or appearance of diverse domestic dog breeds, for example. These results are exciting because they shed light on what types of genetic modifications are likely to be important during the early stages of domestication."
Image of girl holding rabbit via Shutterstock.
Read more at EurekAlert.