Antarctic lakes are a repository for ancient soot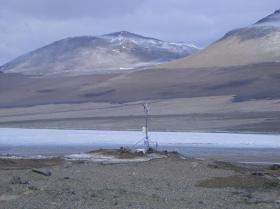 Remote lakes in a perpetually ice-free area of Antarctica show not only the chemical signature of ancient wildfires, but also some much more recent evidence of fossil-fuel combustion, according to National Science Foundation (NSF)-funded research published this week in the journal Geophysical Research Letters.
The research is based on examination of the levels of dissolved black carbon (DBC) that persist in freshwater and saline lakes in the McMurdo Dry Valleys, a mountainous polar desert across McMurdo Sound from the NSF's logistics hub in Antarctica, McMurdo Station. NSF manages the US. Antarctic Program.
In addition to being almost completely scoured of ice and snow by high winds, the Dry Valleys are the site of ice-covered lakes, which experience seasonal, temperature-related advances and retreats in their amount of ice cover during the Southern Hemisphere's summer months, sometimes resulting in a temporary "moat" around the icy surface of the lakes.
They also have some unusual characteristics that make them scientifically interesting repositories for materials like DBC, which are carried into the lakes by local streams or through atmospheric circulation.
Lake Vida Image credit: Chris McKay via NASA
Read more at ScienceDaily.