Species appears to evolve quickly enough to endure city temperatures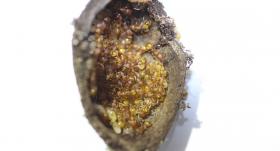 The speed at which a tiny ant evolves to cope to its warming city environment suggests that some species may evolve quickly enough to survive, or even thrive, in the warmer temperatures found within cities, according to a new study by researchers at Case Western Reserve University.
Evolution is often thought of as a process that takes millennia, but urban acorn ants collected in Cleveland have taken no more than 100 years to adjust to their heat-trapping home of asphalt and concrete steeped with waste heat from cars and buildings—although their tolerance to cold was reduced.
The researchers' findings are published online in the Biological Journal of the Linnean Society.
"Ants are an indicator species, and by comparing the physiologies of urban versus rural ants, we can get an idea of whether ants and other cold-blooded animals will be able to cope with the temperature changes associated with urbanization and other sources of warming like global climate change," said Sarah Diamond, assistant professor of biology at Case Western Reserve and the study's lead author.
Continue reading at Case Western Reserve University.
Photo via Case Western Reserve University.