Increase of Alaskan Snow Geese OK for Other Species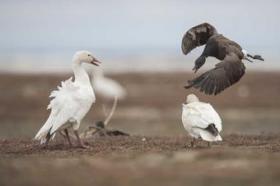 A new report by the USGS finds that although snow geese are increasing rapidly in northern Alaska, they are not having a negative effect on black brant. Brant are a goose species that shares its nesting habitat with snow geese.
We found that in northern Alaska, the habitat where geese rear their young is in very good condition, and that negative effects of too many snow geese as seen in Canada is not happening here," said Jerry Hupp, a Research Wildlife Biologist with the U.S. Geological Survey and lead author of the new study. "The available habitat in northern Alaska will likely support further growth of goose populations," said Hupp.
Hupp and other researchers with the USGS, U.S. Fish and Wildlife Service, the University of Nevada Reno, and Alaska Biological Research teamed up to compare current rates of growth of young geese and food availability to rates from the 1990s, before snow geese were so numerous. The researchers found no change in growth rates of geese or habitat quality, despite the rise in numbers of snow geese.
Continue reading at United States Geological Survey (USGS).
Photo via United States Geological Survey (USGS).