Global warming kills gut bacteria in lizards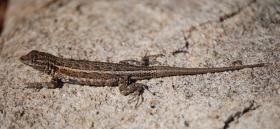 Climate change could threaten reptiles by reducing the number of bacteria living in their guts, new research suggests.
Scientists from the University of Exeter and the University of Toulouse found that warming of 2-3°C caused a 34% loss of microorganism diversity in the guts of common lizards (also known as viviparous lizards).
In the experiments, lizards were put in temperature-controlled enclosures and samples of their gut bacteria were tested to identify which bacteria were present.
The diversity of bacteria was lower for lizards living in warmed conditions, and the researchers found this had an impact on their survival chances.
Read more at University of Exeter
Photo credit: Jarek Tuszynski via Wikimedia Commons