Trash-Picking Seagulls Poop Hundreds of Tons of Nutrients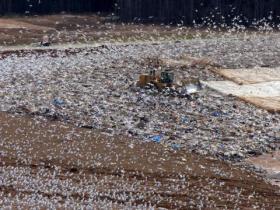 At least 1.4 million seagulls feed at landfills across North America, which aside from the nuisance it might pose, is also a threat to the health of nearby waters, a new Duke University study finds.
"We estimate these gulls transport and deposit an extra 240 tons of nitrogen and 39 tons of phosphorus into nearby lakes or reservoirs in North America each year through their feces," said lead author Scott Winton, a 2016 doctoral graduate of Duke's Nicholas School of the Environment.
The added nutrients contained in the birds' droppings can contribute to extensive algal blooms that rob surface waters of much of the oxygen needed to sustain healthy aquatic animal life -- a process known as eutrophication.
Oxygen depletion and algal toxins that result from the blooms can have far-reaching ecological and economic impacts, including fish kills, increased costs for local governments, and reduced recreational or fishing values in affected waters.
Continue reading at Duke University.
Image credit: Scott Winton