Decoding life under our waters to ensure species' survival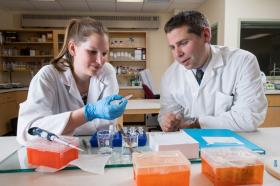 Four hundred million lines of text: that's how much data is in a single gene-sequencing file when Scott Pavey's team receives it. If you wanted to scan it manually, and generously assume it would take one second per line to look at, it would take you 12 and a half years of reading around the clock to get through it all.
Fortunately, Dr. Pavey is backed up by $1 million in infrastructure, making his lab at the University of New Brunswick the most sophisticated of its kind in the province.
The Canadian Rivers Institute genomics lab at UNB's Saint John campus is dedicated to advancing the relatively new science of ecogenomics. Ecogenomics is, broadly speaking, the science of harvesting DNA from individuals or the environment and using it to better understand its inhabitants.
As people across the globe recognize World Oceans Day on June 8 and citizens in this country mark Canadian Rivers Day on June 11, we take a look inside the lab and the cutting-edge science happening there thanks to Dr. Pavey and his team.
Continue reading at University of New Brunswick.
Photo via University of New Brunswick.