Krill hotspot fuels incredible biodiversity in Antarctic region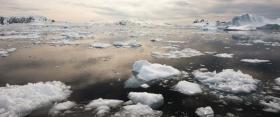 There are so many Antarctic krill in the Southern Ocean that the combined mass of these tiny aquatic organisms is more than that of the world's 7.5 billion human inhabitants.
Scientists have long known about this important zooplankton species, but they haven't been certain why particular regions or "hotspots" in the Southern Ocean are so productive. One such hotspot exists off Anvers Island – along the western Antarctic Peninsula – where high densities of Antarctic krill episodically concentrate near the shore close to a number of Adélie penguin breeding colonies.
As it turns out, a perfect combination of tides and wind is responsible, according to scientists who just published a study on the krill in the journal Deep Sea Research. The research was funded by the National Science Foundation.
"This region off the western Antarctic Peninsula has been a known breeding area for Adélie penguins for thousands of years," said Kim Bernard, a biological oceanographer at Oregon State University and lead author on the study. "We know it today as a krill hotspot and it probably has been for some time.
Continue reading at Oregon State University.
Image via OSU.