Penguin-mounted video captures gastronomic close encounters of the gelatinous kind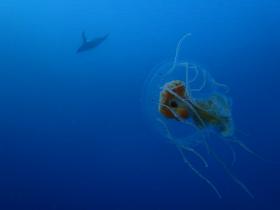 Footage from penguin-mounted mini video recorders shows four species of penguin eating jellyfish and other gelatinous animals of the open ocean, a food source penguins were not previously believed to partake of, scientists report this month in the Ecological Society of America's peer-reviewed journal Frontiers in Ecology and the Environment. The article, part of the October issue of the journal, is available online ahead of print.
Video logs confirmed that penguins targeted gelatinous animals for meals; the birds did not merely ingest them accidentally while aiming for fish or other prey. Connecting this link in the food web helps ecologists understand the ecological niche of "gelata," a group the authors have defined based on shared gelatinous physique and ocean habitat, though it includes organisms from very different branches of the tree of life
Gelata may play an underrated role in the carbon cycle, Jean-Baptiste Thiebot, a postdoctoral fellow at the National Institute of Polar Research in Tokyo, Japan, and 16 co-authors say.
Continue reading at Ecological Society of America
Image via Pierre Chevaldonné / CNRS / IPEV