Australia Experiences Surge in Deforestation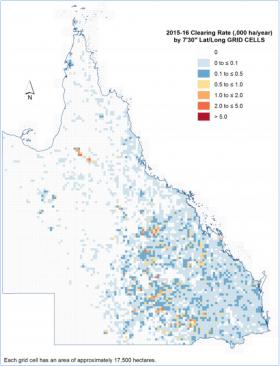 Nearly 1 million acres of trees were cut down in Queensland, Australia from 2015 to 2016, representing a 33 percent rise in deforestation, according to a new government land survey.
Tree-loss, driven primarily by land clearing for ranching and agriculture, was worst in the woodland catchments that feed into the Great Barrier Reef, which hugs the coast of Queensland. Those ecosystems experienced a 45 percent jump in deforestation last year, and are where 40 percent of all the clearing in the province took place. Environmentalists and policymakers warned the catchment losses are increasing sediment transfer into the Great Barrier Reef, literally burying corals, as well as adding millions of tons of greenhouse gases into the atmosphere.
Queensland's deputy premier, Jackie Trad, called the rise in deforestation "incredibly alarming."
Continue reading at Yale Environment 360
Image: Annual woody vegetation clearing rate in Queensland for 2015-2016. (Image Credit: DSITI)