Tropical Forest Reserves Slow Down Global Warming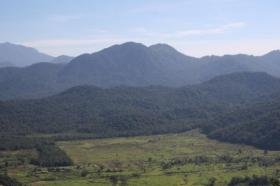 National parks and nature reserves in South America, Africa and Asia, created to protect wildlife, heritage sites and the territory of indigenous people, are reducing carbon emissions from tropical deforestation by a third, and so are slowing the rate of global warming, a new study shows.
An audit of the role protected areas of tropical forest play in preventing global warming shows they are preventing the release of three times as much carbon into the atmosphere as the UK emits each year.
Protected areas account for 20 per cent of the world's tropical forest and play a crucial role in providing habitats for species including tigers, Asiatic lions, jaguars and forest elephants. They are also designated to conserve world heritage sites such as the historic Incan ruins of Machu Picchu in Peru, and to preserve territory for indigenous peoples in South America.
Research by the University of Exeter and University of Queensland Australia shows that protected areas of forest are preventing millions of tonnes of carbon emissions from being lost through logging and deforestation. The study, published in Scientific Reports, is the first to analyse the impact of all protected areas of tropical forest on reducing carbon emissions.
Read more at University of Exeter
Image: This is an image of a deforested area of Brazilian forest. (Credit: Dan Bebber)