Team Finds First Wild Alligator Snapping Turtle in Illinois Since 1984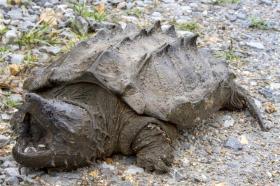 Researchers report the first sighting in 30 years of a wild alligator snapping turtle in Illinois. The discovery may be a sign of hope for this state-endangered species, or the animal could be the last of its kind to have survived in Illinois without human intervention, the researchers say.
The team reports the find in the journal Southeastern Naturalist.
In October 2014, when Illinois Natural History Survey herpetologist Chris Phillips donned a wetsuit and dove to the bottom of Clear Creek in Union County, Illinois, he was looking for a young male alligator snapping turtle with a radio transmitter on its back. That turtle had recently been released in the area to bolster the state-endangered turtle population in southwest Illinois.
"I was just about out of breath when I felt the turtle shell," Phillips said. "I thought I had found the male turtle I knew was there because I detected its radio signal. I felt along its back to where I thought the shell should end, but my hand just kept going."
Read more at University of Illinois at Urbana-Champaign
Image: Researchers were surprised to find a rare, wild alligator snapping turtle in a creek in southern Illinois, the first found in the state since 1984. (Credit: Photo by Eva Kwiatek)