Higher Plant Species Richness May Not Be Enough To Protect Ecosystems From The Worst Impacts Of Climate Extremes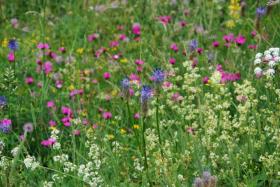 Studies on mild fluctuations in weather have provided support for the idea that higher biodiversity results in more stable functioning of ecosystems, but critical appraisal of the evidence from extreme event studies is lacking.
Higher plant species richness is not always sufficient to reduce ecosystem vulnerability to climate extremes, as shown in a comprehensive literature analysis published today in the Journal of Ecology.
While biodiversity is under threat around the globe, the number of extreme weather events is on the rise as a direct consequence of climate change. Researchers from several institutes around Europe have now looked into the scientific literature that addresses these global changes to examine the interactions between biodiversity and extreme weather events.
They sought to find out whether and how increased biodiversity may help to uphold the functioning of ecosystems in the face of climate extremes. In other words, can biodiversity help to avert the worst effects of droughts, heat waves and extremely wet weather? The answer, it turns out, is not cut-and-dried. Available evidence from herbaceous systems indicates mixed effects of species richness on biomass stability to extremely wet and dry events.
Read more at British Ecological Society (BES)
Image: Higher diversity generally leads to more stable ecosystems, but climate extremes complicate this relationship. (Copyright Hans De Boeck, University of Antwerp)