California's 2017 Wildfire Season Continues to Break Records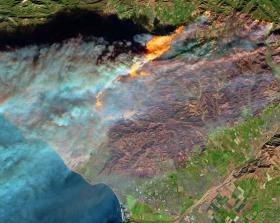 The Thomas Fire burning north of Los Angeles in Ventura County, California is now the state's fifth-largest wildfire on record. Less than 15 percent contained and moving west quickly, the fire is being fueled by dry conditions and strong winds. It is one of five wildfirescurrently burning in southern California.
The Thomas Fire grew by 50,000 acres over the weekend and now stretches more than 230,500 acres. It has destroyed nearly 800 structures and threatens another 18,000. Tens of thousands of people have been evacuated from the region. The five southern California fires are collectively burning an area larger than New York City and Boston combined. In total, 2017 has been the deadliest and most destructive year for wildfires on record in California, according to the state's fire agency, Cal Fire.
Read more at Yale Environment 360
Image: The Thomas Fire in Ventura County, California as seen from space on December 5. Credit: JOSHUA STEVENS / NASA EARTH OBSERVATORY