Bowhead whales come to Cumberland Sound in Nunavut to exfoliate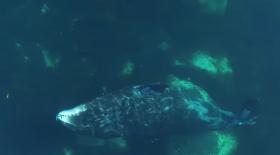 Aerial drone footage of bowhead whales in Canada's Arctic has revealed that the large mammals moult and use rocks to rub off dead skin.
The footage provides one answer to the mystery of why whales return to Cumberland Sound, Nunavut, every summer, and helps explain some unusual behaviour that has been noted historically by Inuit and commercial whalers living and working in the area.
"This was an incidental observation," said Sarah Fortune, a PhD student at UBC's Institute for the Oceans and Fisheries and lead author of a new study based on the findings. "We were there to document their prey and feeding behaviour, but we noticed some strange behaviour near the shore."
Fortune and her colleagues — William Koski, a whale biologist with LGL Limited, and local Inuit hunters and fishers from Pangnirtung – watched from a boat as the whales turned on their sides and waved their flippers and tails in the air. It was clear the whales weren't there just to feed.
Continue reading at University of British Columbia.
Image via University of British Columbia.