Denver, CO – Carbon neutral shipping has arrived. A Colorado company called Ship Green has launched an alternative that provides shoppers with tools to calculate and offset the carbon emissions created by each product shipped. The owners designed it they say to make it possible for customers to reduce the carbon footprint of each purchase. As businesses race to position themselves as leaders in the green economy. The new service targets both individuals and companies in the United States.
Denver, CO – The next generation of carbon neutral shipping may have arrived. A Colorado company called ShipGreen has launched an alternative that provides shoppers with tools to more accurately calculate and offset the carbon emissions created by each product shipped. The system depends on a new mathematical model precise enough for customers to reduce the carbon footprint of each purchase. The new service targets individuals and companies in the United States.
The technical inner workings of the new company, the calculation software and code, was developed by two very savy and very green engineers from California, Arpad Horvath, Ph.D. and Cristiano Facanha, Ph.D., from University of California, Berkley, Department of Civil and Environmental Engineering. The two created a unique mathematical model for calculating the emissions of shipping individual products.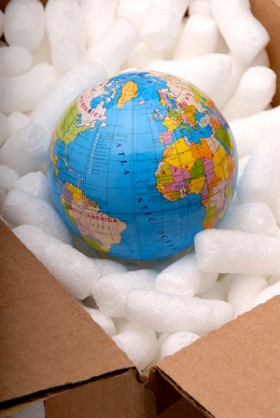 Most companies that offer green shipping use an average of all products shipped to establish the amount of carbon emissions and offsets for each purchase. The ShipGreen algorithm takes into account the weight of each item as well as the distance and means of travel, making ShipGreen the most accurate green shipping service available.
!ADVERTISEMENT!
"Shipping is one of the fastest growing causes of greenhouse gases," says Jason Sperling, co-founder and CEO of ShipGreen. "Our model is unique because we serve both the company and the customer, making it possible for each to make a real difference in the world while doing something that seems routine. Many businesses ship thousands of packages a day, sending huge amounts of carbon into the atmosphere. We're here to help bring balance to the equation."
ShipGreen makes it easy for online businesses to add the ShipGreen feature to their website; a module is installed on the retailer's site giving consumers an opportunity to reduce the carbon footprint of online purchases. During checkout, shoppers can see the amount of CO2 created by shipping their order and then—generally for less than it takes to feed a parking meter—customers can decide to add to their purchase an investment in their choice of carbon offset projects such as hydropower, wind farms, and reforestation.
ShipGreen is committed to supporting the highest quality carbon offset projects available globally and unlike other carbon offset companies that buy credits in bulk, with ShipGreen you know exactly where your money is going. All of the projects in their portfolio are inspected, verified, and certified by independent third parties to ensure a reduction in greenhouse gas emissions consistent with the Kyoto Protocol and The Gold Standard or the standards set forth by the Climate, Community & Biodiversity Alliance.
These projects are not indulgences for customers to relieve climate-guilt. To meet these standards, each project must have a positive environmental, social, and cultural impact.
What makes ShipGreen a game-changer, says Sperling, is its price point for shoppers. According to the algorithm, shipping a 50-inch television by truck from Chicago, IL, to San Francisco, CA, generates 35 lbs of CO2. It costs the customer $.49 to invest in Gold Standard carbon offsets to balance out their global warming impact from shipping the TV. "Adding a fraction of a dollar to an online purchase is an appealing proposition for customers concerned about reducing their carbon footprint. Add up the tens of millions of packages shipped everyday and those dimes can make a real difference for the planet," says Sperling,
ShipGreen is currently in partnership discussions with online retailers in a variety of sectors, including home furnishings, food and beverage, natural living and big-box stores.
With growing competition among businesses to show tangible results for conservation efforts, a free service like ShipGreen appeals to companies who want to improve their environmental profile. ShipGreen's simple yet powerful business model positions the company to become the leader in green shipping solutions. Sperling adds, "We feel we've hit upon something revolutionary, and so far the response has been encouraging. I look forward to the day when green shipping becomes the standard rather than the exception, and we can all look forward to a greener and cleaner world."
About ShipGreen: ShipGreen was launched in September 2007 with the mission of becoming the leading market solution to the environmental impact of the shipping industry. By emphasizing simplicity, accuracy, scalability, and ease of use, ShipGreen helps consumers offset carbon emissions produced from shipping online purchases, and helps businesses gain increased customer loyalty and satisfaction. With a portfolio of the highest quality carbon offset projects available—and a price point of 10 to 50 cents in most cases—ShipGreen makes protecting the planet a snap for shoppers.
For more information: www.shipgreen.net