Organic More Profitable For Farmers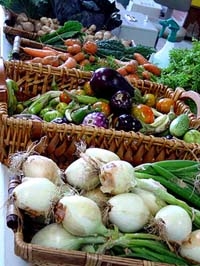 A study the US Department of Agriculture's Agricultural Research Service (ARS) has shown that Minnesota grain farmers could reap higher profits by switching to organic grain crops. The four-year study was conducted at the Swan Lake Research Farm near Morris, MN.
While other studies have compared the cash values of organic versus conventional crop, the Minnesota study analyzed the economic risks and transition effects of switching to organic farming.
ARS researchers David W. Archer, an economist, and Hillarius Kludze, a soil scientist, compared an organic corn-soybean rotation and an organic corn-soybean-spring wheat/alfalfa rotation with a corn-soybean-rotation under conventional tillage. Data from the study and recent market prices were projected by computer simulations to determine the costs, yields, and risks over a 20-year period. Results from the simulation revealed a substantial financial advantage to the organic crops.
Soybeans earned up to $14 more per bushel, corn up to $3 more, wheat up to $5 more. According to another computer model, organic farmers are expected to net an average of $50 to $60 more per acre than their conventional counterparts.