GM Crops Only Way For India To Feed Itself, Says Government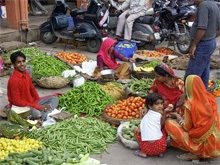 Source: Environmental Graffiti
Their are potentially numerous negative effects of using genetically modified crops to individulas, society and economies, however, it seems that a large scale cultivation of transgenic crops may be the only solution to India's fast growing food and land issues according to Mangala Rai, secretary of the Department of Agriculture Research and Education.
Indeed, India is becoming increasingly desperate to solve the increasing demand for food, created by its rapidly expanding population. Although reported to be the second biggest producer of wheat, India has imported vast quantities of grain in the last two years to meet the gap between supply and demand. The government therefore, is increasingly "turning to the laboratory" for answers. Last month, officials approved the first big trials of GM crops.
However, pitted against the politician's statements are the views of those who argue that genetically modified food may not only harm the environment, but may also threaten the health of those who eat the products. The decisions of Mr Rai and the Indian government have provoked outrage and protests from social activists, who believe that the crops may cause ecological damage and destruction.
In an international conference Mr Rai, said that the production of food from less land would be achieved only through the widespread use of GM crops, stating that "self-sufficiency in food is crucial and the only way to ensure that is to adopt the GM technology. There cannot be two views on the issue." The official added that "whether we like it or not, transgenic crops will soon be a reality."