Climate Change in the San Joaquin Valley and Our Future Food Supply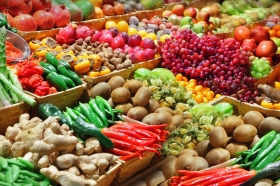 The San Joaquin Valley is North America's most valuable farming region. The area's crops such as carrots and tomatoes are part of large companies' supply chains. High-value crops such as stone fruit, pistachios, almonds, table grapes and pomegranates are shipped across the United States, Canada and overseas. And while this basin between the Sierra Nevada mountains and Coastal Ranges is a bastion of agribusiness, the area is awash with many family-owned farms–many of which grow the "local produce" Bay Area and southern California residents score at weekend farmers' markets.
But climate change is already having its impact on the San Joaquin Valley (the southern half of the Central Valley), and future threats of worsening water scarcity, wildfires and widening insect vectors threaten not only the area's already wobbly economy, but the national food supply. To that end, on Monday the Union of Concerned Scientists (UCS) hosted a forum at Fresno State to discuss the latest climate impacts on the Valley. Four speakers shared ideas about what, if anything, could be done. And with the area's population still growing, concerns over water and energy pose additional challenges.
Fresno State Associate Professor of Earth and Environmental Science, Peter Van de Water, reminded the audience that climate change is already here. The early stages are evident: a reduced snowpack in the Sierras, the resulting decreased snow runoff and warmer temperatures are documented. But climate change is not just about increased temperatures during the summer months. "Low temperatures are warming," Dr. Van de Water said, and the results that should concern farmers show that daily low temperatures are actually warming. And, considering that one reason why the Central Valley's is the world's most fertile region outside the Nile River basin is because of the wide range between daily high and low temperatures–and the benefits for many crops–a changing temperature pattern could cause long-term harm for the sector that is the basis of this region's economy. So climate change adaption needs to start now.
Speaking of water, Roger Bales of UC Merced said the region will have to increase its water security on the foundation of three "I's": Infrastructure, Institutions and Information. "Soft options" addressing water consumption such as rainwater capture and conservation will not be enough to address the valley's water challenges. With depleted groundwater supplies, storage strategies, or "hard options" such as groundwater storage or additional reservoirs will have to be put on the table. Obviously agriculture business and governments will have to cooperate; not that such collaboration has proved easy in recent years. But technology will have to play a role as the region balances increased global demand for food with tighter water supplies–such as sensors offering real-time information about water quality and supplies.
Getting farmers and ranchers on board will not be easy. Organizations such as the Family Farm Alliance, however, is one group bridging the gaps between farmers and other stakeholders in the region. According to Family Farm Alliance's Dan Keppen, farmers are feeling climate change's effects in the region. Already confronting a 25 percent cut in their water allocation, farmers are facing volatile runoff patterns because there is more rain but less snow. And, in addition to population growth, there will be the potential for even more competition for water because of the local oil and gas industry.
Continue Reading at Triple Pundit
Food Stand Via Shutterstock