How can agriculture best adapt to changing climate?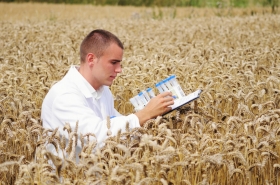 Whether it's swapping coffee for cocoa in Central America or bracing for drought in Sri Lanka with a return to ancient water storage systems, findings from a new report from the CGIAR Research Program on Climate Change, Agriculture and Food Security (CCAFS) chart a path for farmers to adapt to climate shifts despite uncertainties about what growing conditions will look like decades from now.
As this week's UN climate talks in Bonn continue to sideline a formal deal on agriculture, the study, Addressing uncertainty in adaptation planning for agriculture, which was published recently in the Proceedings of the National Academies of Sciences (PNAS), finds that the cloudy aspects of climate forecasts are no excuse for a paralysis in agriculture adaptation policies.

"Climate projections will always have a degree of uncertainty, but we need to stop using uncertainty as a rationale for inaction," said Sonja Vermeulen, head of research at CCAFS and the lead author of the study. "Even when our knowledge is incomplete, we often have robust grounds for choosing best-bet adaptation actions and pathways, by building pragmatically on current capacities in agriculture and environmental management, and using projections to add detail and to test promising options against a range of scenarios."
The CCAFS analysis shows how decision-makers can sift through the different gradients of scientific uncertainty to understand where there is, in fact, a general degree of consensus and then move to take action. Moreover, it encourages a broader approach to agriculture adaptation that looks beyond climate models to consider the socioeconomic conditions on the ground. These conditions, such as a particular farmer's or community's capacity to make the necessary farming changes, will determine whether a particular adaptation strategy is likely to succeed.
"Getting farmers, communities, governments, donors and other stakeholders to embrace various adaptation strategies can end up being equally or more important than seeking higher levels of scientific certainty from a climate model," said Andy Challinor, a professor at the Institute for Climate and Atmosphere Science, School of Earth and Environment at the University of Leeds, who co-leads research on climate adaptation at CCAFS and was also an author of the study. "There is no question that climate science is constantly improving," he added. "But scientists also need to understand the broader processes involved in agriculture adaptation and consider how we can better communicate what we do know in ways that are relevant to a diverse audience."
Young Agronomist checking his samples via Shutterstock.
Read more at EurekAlert.