Climate change and farming: let's be part of the solution!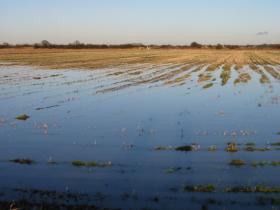 What with rising rainfall in the west, and hotter, drier summers in the east, British farmers place plenty of challenges from global warming, writes Anna Bowen. But there are also positive opportunities for agricultural innovators to adapt their farming systems to changing conditions, make their operations more resilient and sustainable, and make themselves part of the solution.
"I think it's time to change my farming system", said my client. "A switch from dairy to rice paddies."
Looking at his sodden fields, it wasn't hard to imagine.
When you work with farmers, conversations about the weather are inevitable. Their livelihoods are intrinsically linked to the climate, and very often they and their animals are at the mercy of the elements.
Read more at The Ecologist
Photo credit: Nick Smith via Wikimedia Commons