Saving Seagrasses From Dredging - New Research Finds Solutions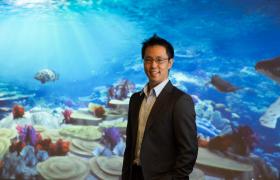 Timing of dredging is the key to helping preserve one of the world's most productive and important ecosystems - seagrass meadows.
Seagrass meadows are among the most underappreciated but most important ecosystems in the world
Seagrasses are disappearing at the same rate as tropical rainforests and coral reefs
New research can provide answers on when and how much to dredge via an 'ecological window'
Modelling provides up to a fourfold reduction in time it takes for seagrass to recover
The study, published overnight in Nature Communications, was led by QUT researchers in collaboration with seagrass experts at Edith Cowan and James Cook universities.
Lead researcher, QUT's Dr Paul Wu, has developed a way of predicting the ideal time to dredge in order to give seagrass the best and quickest chance of recovery.
Read more at Queensland University of Technology
Image: Dr Paul Wu has developed a statistical model to predict when is the best time to dredge to give seagrasses the best chance of recovery. (Credit: QUT Media: Anthony Weate)