Circadian clock discovery could help boost water efficiency in food plants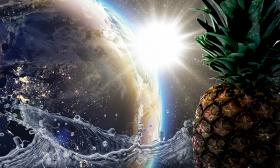 A discovery by Texas A&M AgriLife Research scientists in Dallasprovides new insights about the biological or circadian clock, how it regulates high water-use efficiency in some plants, and how others, including food plants, might be improved for the same efficiency, possibly to grow in conditions uninhabitable for them today.
The scientists in their study, published in the journal Genome Biology and Evolution at http://bit.ly/2xOZr1M, identify 1,398 transcription factors, proteins that regulate expression of certain genes in pineapple. Of those, nearly half exhibited time-of-day specific or diurnal gene expression patterns, which could be important in uncovering the genetic controls for water use in plants.
"This is an important step in understanding the overall circadian regulation of water-efficient photosynthesis and how that efficiency might be replicated in other plants, namely food crops," said Dr. Qingyi Yu, AgriLife Research associate professor of plant genomics in Dallas.
Read more at TEXAS A&M Agrilife Communications
Illustration Credit: Gabe Saldana