Radiographs of Dolly's Skeleton Show No Signs of Abnormal Osteoarthritis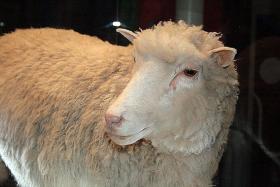 Original concerns that cloning caused early-onset osteoarthritis (OA) in Dolly the sheep are unfounded, say experts at the University of Nottingham and the University of Glasgow.
The team, who published last year's Nottingham Dollies research which showed that the 8 year-old Nottingham 'Dollies' had aged normally, have now published a radiographic assessment of the skeletons of Dolly herself, Bonnie (her naturally conceived daughter) and Megan and Morag (the first two animals to be cloned from differentiated cells).

Their findings – 'Radiographic assessment of the skeletons of Dolly and other clones finds no abnormal osteoarthritis' – have been published in the online journal Scientific Reports. They show that the skeletons, stored in the collections of National Museums Scotland in Edinburgh, bear radiographic OA similar to that observed in naturally conceived sheep and Nottingham's healthy aged clones.
Read more at University of Nottingham
Photo credit: Toni Barros from São Paulo, Brasil via Wikimedia Commons