Support builds for carbon cash to save forests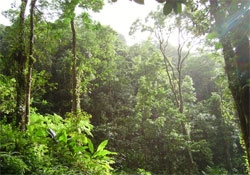 LONDON (Reuters) - The use of carbon offsetting as a way to fund tropical forest protection drew backing from a range of environmental and research groups this week, ahead of international climate change talks in December.
Demand for carbon offsets is growing from large Western businesses. Companies want to be seen to be green by paying others to cut emissions of greenhouse gases on their behalf.
Mobilising such private sector finance to protect forests is gathering support. Deforestation accounts for about one fifth of global greenhouse gas emissions, while rising populations and demand for biofuels and timber are piling pressure on remaining trees.
Environmental organizations grouped under the Global Canopy Programme (GCP), and including Friends of the Earth Brazil and Care International, on Wednesday called for such funding under a successor to the Kyoto Protocol after 2013.
"(We want) the protection of standing forests included in all national and international carbon markets," they said.
"Halting deforestation is an opportunity to score a big win against climate change," Andrew Mitchell, founder and director of the GCP, said in a statement.
Environment ministers from around the world meet in Bali, Indonesia in December to try to lay the groundwork for a successor agreement to the U.N.-sponsored Kyoto pact, whose present commitments expire in 2012.
At present forest protection does not qualify for tradable carbon offsets under the pact, unlike projects for example to install renewable power like wind and solar.
The World Bank has announced it plans to pilot projects in Papua New Guinea, Costa Rica, Indonesia and elsewhere, allowing countries earn offsets in return for not chopping down their forests.
On Monday, an informal meeting of policymakers in Berlin, led by U.N. climate change envoy and former Chilean President Ricardo Lagos, called for forest protection to "be included in a post-2012 climate change regime," for example using carbon markets.
Last week the World Wildlife Fund and the International Institute for Environment and Development (IIED) urged the same.
"The growing market for carbon offers great opportunities for linking greenhouse gas mitigation with conservation of forests and biodiversity, and the generation of local livelihoods," WWF and IIED said in a briefing paper, adding it was important local people, and not just speculators, benefited.
Trees, often cleared to provide land for livestock or biofuel crops like rapeseed, are around 50 percent carbon and release carbon dioxide (CO2) when they rot or burn.
-- Additional reporting by Gerard Wynn