California Fire Codes Put Focus on Plastic Decking Concerns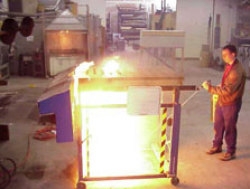 A highly publicized series of wildfires has struck California in the last decade, putting a focus on homes in wildfire-prone areas and the flammable materials they are constructed from—including roofing, siding, and decking. Taking effect on January 1, 2008, the Wildland-Urban Interface Building Codes, developed by the California Office of the State Fire Marshal (SFM), aim to protect homes and the safety of occupants and firefighters. Among other provisions, the codes restrict relatively flammable decking, including wood-plastic composites.
The new codes affect "Fire Hazard Severity Zones," identified by topography (fire spreads faster on slopes), vegetation that fuels fires, weather patterns, history of past wildfires, and likelihood of fire spreading from neighboring areas. Those zones affect a significant portion of the state, mostly in rural areas, but they also frequently intersect with populated areas. According to Kevin Reinertson at SFM, the standards have been projected to affect 8%–11% of new construction in California.
Landscaping provisions require homeowners to clear flammable materials for 30 feet (9 m) around a building and manage fuel loads for 100 feet (30 m) around a building to create a "defensible space" for firefighters. The standards cover vents, walls, windows, and decking—roofs should be ignition-resistant, and cornice vents that could admit flames are prohibited, for example. Decking has also been a key focus of the regulations. Many homes feature wide expanses of decking, which is usually flammable; laid horizontally with air gaps between boards, the decking can easily catch burning embers and ignite.
In support of the code development, the California Forest Products Laboratory tested flammability of a variety of wood, plastic, and wood-plastic composite decking materials in 2002 (see EBN Vol. 11, No. 11). The tests found that solid products, like redwood decking, and some composites, such as Trex, performed much better than hollow or channeled products. Several plastic and composite products performed very poorly, suffering from runaway combustion and dripping, flaming debris.
Fears of runaway combustion, structural failure, and flaming debris helped shape the new codes, which offer decking materials multiple compliance paths. Acceptable materials may, like heavy timber or masonry, be recognized as noncombustible or ignition resistant. Flame retardant treated wood, which by definition meets the Class A, or highest, flame-spread rating in ASTM E-84, is specifically allowed. Other materials may be allowed by passing SFM performance requirements for ignition resistance and heat-release rate while exposed to flames. While not equivalent to ASTM E-84, these tests may allow the use of decking boards achieving only a Class B rating in ASTM E-84, opening the field to a variety of wood and plastic products.
According to Bill Towson, codes representative for Arch Wood Protection, which offers Dricon, a flame retardant treated wood, the wood-plastic composite industry lobbied the SFM to allow Class B materials, despite the potential for reduced fire safety. "Everybody had their opportunity for input when we were promulgating the regulations," said SFM's Reinertson, but he denied that the wood-plastic composite industry had unduly influenced the results. Steve Quarles, an advisor on wood performance issues for the University of California Cooperative Extension who helped run the 2002 tests, told EBN, "There were a number of factors on the table, including cost to the consumer" of various alternatives.
Quarles welcomed the regulations, noting, "It's a lot better than where we were before." He noted that the regulations address key components of the building envelope and are encouraging development of new standards. In particular, an ASTM task group is considering developing a standard based on the SFM standards, and other states are looking at adopting some version of them. The standards have also encouraged ASTM to develop a standard demonstrating resistance of vents to flames and embers—something that some products can currently claim, but not conclusively demonstrate.