Eco-airline takes to the skies of the Pacific Northwest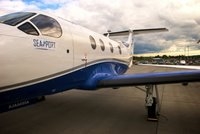 While the nation's major air carriers fight for survival in a world of soaring jet fuel prices and concern over pollution caused by aircraft, a new business commuter carrier in the Pacific Northwest is offsetting 100 percent of its airplanes' emissions.
In June, SeaPort Airlines launched regularly scheduled service between Portland, Ore., and Seattle, with multiple departures each day. A month later, the carrier announced it would donate funds to offset all carbon emissions generated by its flights -- whether they are full or carrying only one passenger. 
SeaPort has partnered with the Columbia Land Trust to preserve forestland in the Pacific Northwest. Under its Working Forest Initiative, the Columbia Land Trust chooses areas with value as scenery, watershed or natural habitat, and purchases the land to keep it unspoiled.
"We wanted to put that money into an environmental project that is local, tangible and provides a long-term benefit to the Pacific Northwest," said Kent Craford, CEO of SeaPort. "In the Columbia Land Trust, we've found an organization doing just that."
Aside from offsetting emissions, the commuter carrier has chosen to fly a fleet of fuel-sipping Pilatus PC-12 planes. The Swiss-built pressurized turboprop burns a mere 51 gallons of jet fuel for each Seattle-to-Portland flight.
"By operating one of the most efficient aircraft in commercial aviation, not only are we able to control our jet fuel costs, but we're also able to go one step further and mitigate the environmental impact of our fuel consumption," Craford said.
SeaPort's scheduled service between Boeing Field in Seattle and Portland International Airport takes about 90 minutes each way, with up to 10 roundtrip flights per day. A recent check of fares ranged between $149-$224. The eco-airline also offers nine-seat charter aircraft at rates starting at $1,400 per flight hour. Charter flights to regional destinations such as Sun Valley, Bandon and Spokane begin at $160 per person, per flight hour.