eBay Launches Green Community, Touts Sustainability of Used and Vintage Goods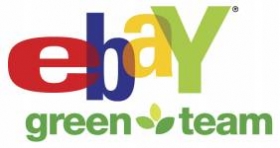 The eBay Green Team started over a pizza pie. In 2007, 40 eBay employees got together, driven by a common goal—to make environmental and green issues a priority within the company. Fast forward two years and over 1,000 employees across 18 different countries are currently part of the Green Team. And yesterday marked their official foray into the public sphere with the launch ofeBayGreenTeam.com, a site dedicated to uniting the community—both employees and customers/vendors—around a common dialogue of behavior change.
"We want to push the envelope," says Libby Reder, eBay's Head of Environmental Initiatives, in regards to the mission of the Green Team. To inspire everyone to become "smarter, greener consumers."
We've covered some of eBay's efforts in social enterprise previously, but as Earth Day rapidly approaches, the company is making a point to highlight many of its green efforts across the board. Not only does it boast a LEED-Gold certified campus at its corporate headquarters in San Jose, CA (which also houses the city's largest solar installation), the company is also proud to not have a large supply chain nor retail footprint. Rather, eBay views itself as more of a conduit, a connector. Even a change-agent, to use a term previously discussed here. A connector of buyers and sellers, eBay has the unique ability to impact both the supply AND demand sides of commerce.
Article Continues:Â http://www.triplepundit.com/pages/ebay-launches-green-community-touts-sust.php