Introducing America's First Green Pro Sports Team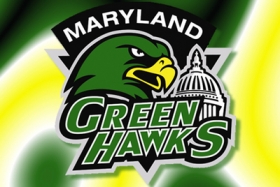 The NightHawks--who claim to be the nation's longest-running minor-league basketball franchise--have gone green, changing their name, attracting green-friendly sponsors like Honest Tea and Sweet Green and CarbonFund.org, and holding an introductory event at which the promise of a bamboo court, hemp nets and uniforms made from either recycled plastic or recycled bamboo were floated.
"I've never been at a press conference talking about recycling," said Coach Rob Spon, a veteran of the IBL, CBA, IBA, USBL and PBL, the league in which the GreenHawks play. "This is a first for me."
The GreenHawks won't start playing until Jan. 16, but they've already been dubbed "the pride of Montgomery County," "a pioneer in promoting environmental conservation," and a team dedicated to "spreading the message of environmental conservation to the community and its basketball fans."
Article continues: http://voices.washingtonpost.com/dcsportsbog/2009/11/welcome_to_americas_first_gree.html