Los Angeles City Council OKs Plastic Bag Ban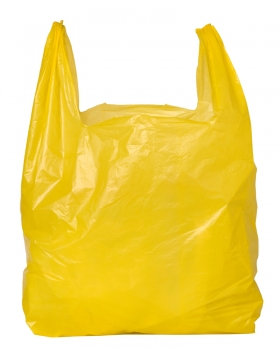 The "City of Angels" is now taking a larger step in environmentalists' fight against the United States' plastic usage.
Los Angeles, California has become the biggest city in the U.S. to implement a ban on plastic bags at supermarket checkout counters. The legislation—approved 13-1 by Los Angeles City Council on May 24th—was a victory for environmentalists and was the government's way to tell city residents that they need to do their part in the effort to protect the environment. Los Angeles will also start charging ten cents per paper bag in supermarkets as well. The plan will be phased over a 16-month period in L.A.'s approximately 7,500 supermarkets.
The ban was a major campaign issue for clean-water advocates over the decade in Los Angeles, who said it would reduce waste in landfills, the Pacific Ocean and the surrounding waterways which feed fresh water into Los Angeles. Environmental activists, including actress Julia Louis-Dreyfus, have stated in their arguments that Californians annually use 12 billion plastic bags and only five percent are recycled. The plan will begin a four-month environmental review, with an expected routine passage of an ordinance soon after. After the ordinance is passed, larger markets will have six months to phase out the plastic bags, whereas smaller ones will have one year. When the bags are phased out, supermarkets are mandated to charge consumers ten cents per paper bag in supermarkets.
Los Angeles City Councilman Paul Koretz said that this new law will help L.A. residents to be more conscious of their use of both plastic and paper bags. "My hope is that so few paper bags will be used as a result of this measure that the formal ban on paper bags may not even be necessary," said Koretz.
The new law comes into place after similar legislations were approved by other California cities and counties. Santa Monica County has had a plastic bag ban since September 2011 and has had no issues with stores or consumers complying with the law. San Francisco also has a plastic bag ordinance in place. The San Francisco law, which has been in effect since 2007, was originally applied to only pharmacies and supermarkets have now expanded into other retail. David Assmann, an environmental manager for San Francisco said that people are now getting used to the idea to bring their own bags. "I think it's part of the culture here," said Assmann.
Los Angeles City Councilman Ed Reyes wants Los Angeles to be a leader in revitalizing the environment by bringing this to the state level. "Let's get the message to Sacramento that it's time to go statewide," said Reyes.
For more information, please visit http://articles.latimes.com/2012/may/24/local/la-me-0524-bag-ban-20120524
Image Credit: Plastic Bag via Shutterstock