Cleaner aviation depends on supplies of not so clean materials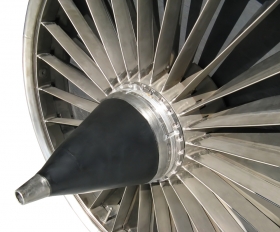 From the flight deck to the wheel brakes, new generations of aircraft that produce far less pollution increasingly rely on imported raw materials which are themselves dirty to produce. EurActiv reports from the Farnborough International Airshow.
China and Russia are dominant suppliers of some forms of titanium – a lightweight metal used in airframes and parts – while China holds the lock on production of rare earth metals. Dependable supplies of these resources are vital as European and American airplane manufacturers juggle backlogged orders and address forecasts of exponential growth over 20 years.
"It's an area that is going to increasingly become a challenge in the industry," said Dr Andy Jefferson, programme director at the industry-financed Sustainable Aviation research organisation in the United Kingdom.
"We need to take the lead in developing innovation in a sustainable way," he said on the sidelines of the Farnborough International Airshow in England.
Titanium is an ideal metal for airplane parts and frames because it is lighter and stronger than aluminium, and is highly heat resistant. Some of the 17 so-called rare earth elements and metals are used in computers, aircraft parts and guidance technology.
But supplies are far from guaranteed, independent analysts say, especially as China and Russia reputedly exercise selective trade practices and become potential competitors to the leading European and American aircraft manufacturers.
Last year, as a trade row between the European Union and China heated up over rare earth elements, the consulting firm PriceWaterhouseCoopers produced a survey showing widespread concern among business leaders about the potential for scarce supplies of essential manufacturing components.
Jet engine via Shutterstock.
Read more at EurActive.