Sustainability Priorities For Global Companies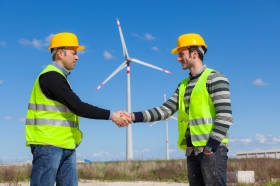 Results from the fourth annual "BSR/GlobeScan State of Sustainable Business Poll 2012," released today, outline the progress global business has made on 14 key sustainability challenges over the past 20 years, the areas where business is likely to make the most progress over the next 20 years, and key priorities for the year ahead—including human rights and climate.
BSR and GlobeScan surveyed more than 500 business leaders drawn from BSR's global network of nearly 300 member companies. 
To examine the progress made in sustainability over the 20 years since BSR was founded, the survey asked executives to evaluate the past and likely future progress on 14 key sustainability challenges. Considering the next 20 years, respondents rated sustainability reporting, water, and responsible supply chains as the areas in which business will likely make the most progress. In contrast, respondents were least optimistic about future progress being made in public policy, governance, and employee treatment.
Looking back and looking forward, two findings become clear:
Though respondents found comparatively less progress on water in the past, they are confident that business will make strides on this challenge over the next 20 years.
Business believes other issues—including sustainable consumption and public policy—will remain ongoing challenges over the next 20 years.
"The survey reinforces our view that business has made great strides to integrate sustainability into their activities, and that much more progress is required for truly sustainable outcomes," said BSR President and CEO Aron Cramer. Cramer also stated that the survey "underlines the essential need for renewed business leadership to mobilize and engage consumers, investors, and governments to enable sustainable prosperity for all."
Engineers at wind power site via Shutterstock.
Read more at ENN Affiliate Justmeans.