Cleaner Power from Innovation: Creative Approaches to Renewable Energy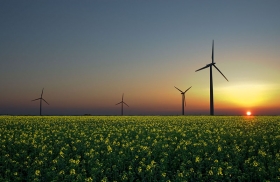 Innovation is the key to the future and central to the expansion of renewable sources of energy. There are a number of innovations that could radically transform the clean energy equation. Although renewable energy is growing exponentially around the world these sources of power have a number of shortcoming that make it difficult to scale-up so that they can replace dirty energy sources like fossil fuels. However, those who doubt that renewable energy will be able to replace fossil fuels lack imagination. We need to get outside the box to envision a future powered entirely by clean energy.
Renewable sources of power are our only hope for the future as we cannot continue to rely on fossil fuels. Professor Lesley Hughes explains, "In order to achieve that goal of stabilizing the climate at two degrees or less, we simply have to leave about 80 percent of the world's fossil fuel reserves in the ground, We cannot afford to burn them and still have a stable and safe climate."
Here are a number of examples of recent innovations in renewable energy. While these examples only scratch the surface of creative approaches to clean energy, they give us an idea of some of the ways in which we may be able to provide for all of our power needs while minimizing our impact on the planet.
These innovations are broken down into the following five areas: Wind, solar, nano-technologies, small scale renewables, and hydrogen.
Article continues at Innovation.
Wind image via Wikipedia.