World's largest whale shark slaughterhouse uncovered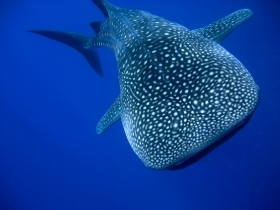 The world's biggest slaughterhouse for endangered whale sharks has been uncovered in southeast China, writes Sophie Morlin-Yron. It's products are being traded across the world in health and cosmetic products.
The largest slaughtering facility for Whale sharks ever seen has been uncovered in southeastern China by Hong Kong based WildLife Risk.
The slaughterhouse, operated by China Wenzhou Yueqing Marine Organisms Health Protection Foods Co Ltd, is estimated to butcher over 600 Whale sharks - an internationally protected endangered species - every year.
Alex Hofford and Paul Hilton from the organisation said in a joint statement: "How these harmless creatures, these gentle giants of the deep, can be slaughtered on such an industrial scale is beyond belief."
Whale shark trade
The trade with Whale shark products - a large part of which ends up in beauty products such as shark oil health supplements, lipstick and moisturisers in the West - continues.
Despite international agreements The Pu Qi factory, which was discovered near Wenzhou - in China's southeastern Zhejiang Province - operates openly.
A manager at the factory, whom they identified as Li Guang, said shark products were being labeled as tilapia, a commonly farmed fish.
A four-year investigation
The revelations follow a four-year investigation, spanning from January 2010 to December 2013, by WildLife Risk, a marine conservation organization.
It includes DNA tests, undercover footage and audio recordings of the findings, and was carried out in association with the New York Times.
The investigators says they were shaken by what they saw at the factory. Whale sharks, the biggest fish in the world, a tropical species the size of a bus (they can grow to 12 meters long) were butchered by hand on the slippery floor.
"It's a lot of carnage in one place, a lot of damage. It was pretty overwhelming", said Hilton. He and Hofford both visited the factory three times undercover, posing as buyers.
Continue reading at ENN affiliate, The Ecologist.
Whale shark image via Shuttershock.