Trouble for Tea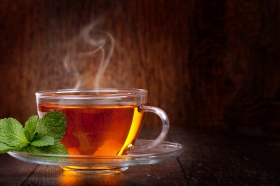 Britain's favorite tipple faces big challenges over coming decades, writes Ann-Marie Brouder. A new report sets out the challenges and proposes sustainable solutions to keep the 'cup that cheers' on the nation's tables.
Tea is big business: three billion cups of it are consumed every day, 4.8 million tonnes are produced annually, and in Britain two in three people drink it daily.
And tea is much more than just a business - many people and cultures have a deep emotional attachment to the 'cup that cheers', and would be horrified at the idea that there was any threat to their beloved beverage.
Multiple threats for the future
But a new report on the future of tea by Forum for the Future shows that tea growers face multiple threats, from climate change to increasing competition for land in key tea-growing countries.
The main conclusion? Things could be very bad for our favorite hot drink by 2030 if we don't take action now.
This is why we started Tea 2030, a coalition of leading companies and NGOs including Unilever, Yorkshire Tea, Ethical Tea Partnership, Tata Global Beverages and James Finlay.
Our aim is to better understand the challenges and prioritise the actions we need to take now for a successful future for the tea industry.
Spreading out the climate risks
So what are those challenges? Let's start with the 4.8 million tonnes of tea produced annually. Most of this tea is sourced from Kenya, Malawi, India, Sri Lanka, China - some of the countries most vulnerable to climate change.
Because tea is grown in several countries, producers and packers have traditionally been able to shift their sourcing from one country to another; so if yields in Kenya, for example, are bad one year, more tea is sourced from Sri Lanka and vice versa.
But if all of these countries are vulnerable to climate change, and will increasingly be affected simultaneously as conditions worsen, where will the likes of Yorkshire Tea and Unilever turn to then?
Moreover the most immediate impacts of climate change for tea are going to be volatility of yields. Faced with several years of volatility, are tea producers going to continue to grow tea?
Continue reading at ENN affiliate, The Ecologist.
Tea cup image via Shutterstock.