Flexible, organic and biodegradable: Stanford researchers develop new wave of electronics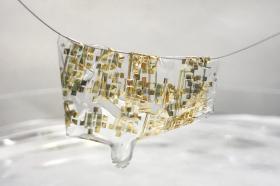 As electronics become increasingly pervasive in our lives – from smart phones to wearable sensors – so too does the ever rising amount of electronic waste they create. A United Nations Environment Program report found that almost 50 million tons of electronic waste were thrown out in 2017—more than 20 percent higher than waste in 2015.
Troubled by this mounting waste, Stanford engineer Zhenan Bao and her team are rethinking electronics. "In my group, we have been trying to mimic the function of human skin to think about how to develop future electronic devices," Bao said. She described how skin is stretchable, self-healable and also biodegradable – an attractive list of characteristics for electronics. "We have achieved the first two [flexible and self-healing], so the biodegradability was something we wanted to tackle."
The team created a flexible electronic device that can easily degrade just by adding a weak acid like vinegar. The results were published May 1 in the Proceedings of the American Academy of Sciences.
"This is the first example of a semiconductive polymer that can decompose," said lead author Ting Lei, a postdoctoral fellow working with Bao.
Continue reading at Stanford University.
Image credit: Bao lab