Food banks respond to hunger needs in rural America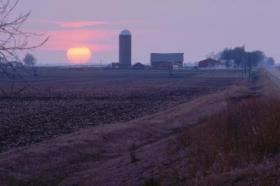 Many images of rural America are food-related—a freshly-baked apple pie cooling on the windowsill, a roadside produce stand brimming with sweet corn and tomatoes, or a Norman Rockwell print showing a family sitting down to dinner. But the reality is that many people in rural America face hunger and don't always know where their next meal is coming from.
"Just because rural communities are surrounded by fields of corn and soybeans, it doesn't mean residents can walk by and eat it. It's not available in that sense. It would be like saying that people living in Silicon Valley must have really great cell phones or that cars are cheaper in Detroit," says University of Illinois economist Craig Gundersen who studies food insecurity. "We find that food insecurity exists in rural areas just like it does in urban areas."
Gundersen's recent research on the subject sheds some light on hunger-relief efforts in rural America. According to his research, Feeding America has a substantial presence in rural communities, providing food assistance through member food banks and the food pantries with which they partner.
"There has been a perception that food pantries are mainly located in urban settings, while rural communities are isolated places where food assistance is not being provided to people in need. We didn't find that to be true. In fact, we find that, based on certain measures, food banks are doing a great job at reaching rural areas," Gundersen says.
Read more at University of Illinois College of Agricultural, Consumer and Environmental Sciences (ACES)
Image: A farm in central Illinois is cast with a purple glow from the setting sun. (Credit: University of Illinois)