Houston's Trucking Lifeline Rumbles Back in Harvey's Aftermath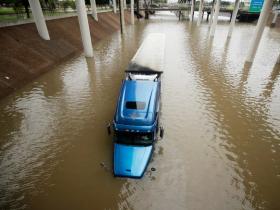 As Houstonians watch the waters recede, they are looking ahead to the next phase of the disaster: recovery. The unusually prolonged assault by Hurricane Harvey flooded nearly a third of Harris County, killed at least 38 people, and left thousands more homeless. The storm also effectively throttled commerce coming into and leaving Houston, the county seat. Both of its major airports closed, its rail yards and nearby ports were majorly disrupted, and the city's extensive highway system was largely underwater.
The deluge appears to be finally done, and Houstonians are hustling to rebuild and recoup what they've lost in part by reestablishing those vital connections.
George Bush Intercontinental and Hobby Airports, which together move 55 million passengers and 442,563 metric tons of freight every year, shut down for three days, with airlines rerouting flights and waiving change fees for travelers. The airports reopened Wednesday, and traffic should begin to return to normal. Houston isn't a major air cargo hub, and most of the shipments headed its way likely landed in Dallas or Austin. "It doesn't really slow down the air cargo supply chain," says Neel Jones Shah, who runs air freight operations for Flexport, a company that helps businesses organize their shipping efforts. But people sending specialized cargo, like pets or human remains, will have to wait or pay a premium.
Read more at Wired
Image: A truck is submerged on a freeway flooded by Tropical Storm Harvey on Sunday, August 27, 2017, near downtown Houston. (Credit: CHARLIE RIEDEL/AP)