Ship Exhaust Makes Oceanic Thunderstorms More Intense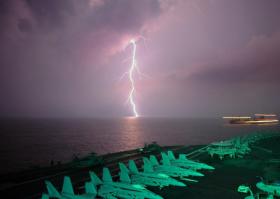 Thunderstorms directly above two of the world's busiest shipping lanes are significantly more powerful than storms in areas of the ocean where ships don't travel, according to new research.
A new study mapping lightning around the globe finds lightning strokes occur nearly twice as often directly above heavily-trafficked shipping lanes in the Indian Ocean and the South China Sea than they do in areas of the ocean adjacent to shipping lanes that have similar climates.
The difference in lightning activity can't be explained by changes in the weather, according to the study's authors, who conclude that aerosol particles emitted in ship exhaust are changing how storm clouds form over the ocean.
The new study is the first to show ship exhaust can alter thunderstorm intensity. The researchers conclude that particles from ship exhaust make cloud droplets smaller, lifting them higher in the atmosphere. This creates more ice particles and leads to more lightning.
Read more at American Geophysical Union
Image: This is lightning behind an aircraft carrier in the Strait of Malacca. New research finds lightning strokes occurred nearly twice as often directly above heavily-trafficked shipping lanes in the Indian Ocean and the South China Sea year-round from 2005 through 2016. (Credit: pxhere.com; public domain)